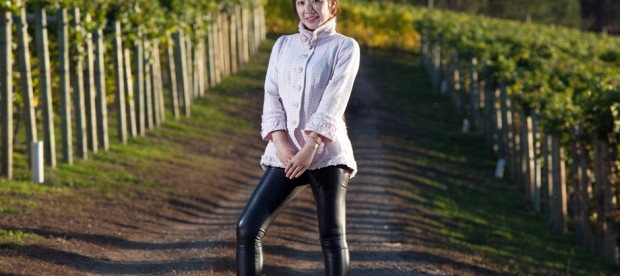 Why Chinese buyers are pouring into the Okanagan's vineyards
 Zhenzhen Fu, 28, stands in the rows of grapes at a winery in Lake Country, British Columbia. Zhenzhen Fu is a young Chinese woman who is touring British Columbia's Okanagan Valley wine region and is interested in purchasing a B.C. winery.
KELOWNA, B.C. — It's harvest season in British Columbia's Okanagan wine country. Among the yellowing vineyards, the crushing of grapes, and the tourists flocking to winery shops to sample and stock up on past vintages, Zhenzhen Fu is on a life-changing mission.  She wants to buy and run a winery.  The 28-year-old, who moved to Canada from Weihai, a seaside city in China's eastern Shandong province, is on her fourth visit to Canada's western wine region this year. She says her passion for wine runs deep. She can't wait to make quality reds of her own — first to serve the local market, then for export to China, where red is considered a lucky colour.  "I am a wine lover," says Ms. Fu, who became a Canadian citizen after moving here in her teens and completed a computer engineering degree from the University of Alberta, before settling in Vancouver.  "It's the reason I want to get into this business. I want to make a wine that is special."
Her father in China is backing her purchase: He's a red wine lover, and an importer of Canadian goods, including lumber. But here in B.C., he's looking for an investment to pass on to his only daughter. He plans to mentor her and help her sell the vintages they produce into China.  Clad in a delicate-pink Chanel jacket, emerald Valentino bag and black Moussy platform shoes for an eclectic urban look, Ms. Fu hardly cuts the figure of the weathered wine farmer.  But she is part of a growing number of Chinese-Canadians, and investors from China, snapping up wineries in this B.C. valley.
R
ows of grapes in Lake Country, British Columbia on October 21, 2014.
Many of them own homes in Vancouver and see the Okanagan wineries, just a quick flight or a half-day's drive from the city, as an extension of their Canadian presence. They also see an alluring business case: Demand for wine among China's growing and more sophisticated middle class is booming. The country has quickly become the world's leading market for red wine, according to London-based International Wine and Spirit Research. Last year, China consumed 1.86 billion bottles of red, an increase of 136% over the previous five years. Younger Chinese consumers see wine as a healthier choice than the high-alcohol grain liquors favoured by their parents; and the B.C. government has been supportive of Asian investment in the province. For those not already Canadian citizens, the purchase of a winery can help win permanent residency in Canada as business immigrants through the provincial nominee program.
"Today the Chinese are drinking about one bottle of wine per capita, adult, a year, where we're drinking about 36 bottles a year," says Harry McWatters, founder of B.C.'s Sumac Ridge Estate winery. "If we can get them halfway in between, the world wouldn't have enough wine." There are 240 grape wineries in British Columbia today, from just 17 in 1990 and 86 in 2003. The thirst for investment and ownership turnover is high in a business that is extremely capital intensive. The average sale price of a winery in B.C. is $10-million. The listing price of the 40 now available for sale, publicly and privately, ranges from $1.85 million to $55-million. Chinese interest in buying B.C. wineries perked up around 2008–2009, as families from Mainland China built a presence in Western Canada and began scouring for investment opportunities. Once the Chinese families get established, and someone speaks a bit of English, then there is a confidence to get into that business. Then there are families who are in the export business, so it's natural add on.
The Okanagan's ripening as a reputable wine region happened just in time to position it as a draw for Chinese capital.
Selling a winery is complex and takes time. The product is specialized and the operations involve many components, from vineyards, inventory, and equipment to, in some cases buildings, restaurants and retail outlets. With buyers from China unfamiliar with the region, the sale process can involve extensive tours around the Okanagan.  It has to be the right price point, and then the right location, then you have to have a good team and a good brand, and have decent cash flow. Then you have to match the family with the winery, and make sure that all the components are looked after so that it continues to be successful. And when they do make their move, they pay cash — an important edge. Traditional banks tend to be uneasy about a business that requires such a long-term horizon and deep pockets. Farm Credit Canada, Canada's largest agricultural term lender, is the main financial institution that supports the wine business.
The Okanagan's ripening as a reputable wine region happened just in time to position it as a draw for Chinese capital. The rapidly emerging affluent middle class in China was soon followed by a taste for western indulgences. Now one of the world's top wine markets, there are an estimated 1 million planted acres of vineyards in the country (compared to about 10,000 in British Columbia and 40,000 in California's Napa region), but production hasn't kept up with demand, the quality is often poor, and there is a widespread problem with counterfeit wines, made locally but labeled as European.
"In China you cannot control the quality of the red wine, so they import a lot," says Ms. Fu. "There are too many kinds and there are a lot of fake red wines… And when we came to the wine tour, in the Okanagan, we saw a lot of wineries in the Okanagan. They are so beautiful, and we just fell in love."
Canadian wine exports to China have been increasing from a modest base, says Mr. McWatters, a pioneer and leader in the province's wine industry, with 47 vintages under his belt. Because B.C. has limited capacity to expand, its wine makers have been focusing on quality, and the Chinese are catching on. "[The Chinese are] looking for wines of distinction, wines that have breeding and a unique characteristic," says Mr. McWatters, who is starting a new winery after launching well-known establishments like Sumac Ridge Estate in 1980 and See Ya Later Ranch Estate Winery in 1995. As they discover B.C.'s wide range of varietals, from Pinot noirs and Merlots to Rieslings and Gewurztraminers, they become interested in owning the production, he says.   "There have certainly been lots of Asians looking at the investment here over the last five to 10 years, but it's really only in the last three to four years that we have seen real traction take place," Mr. McWatters says. "It's a direct reflection of the way wine is growing with such tremendous interest in China."
Tait says she's only seen positive things from the new owner of her former winery, Bench 1775 — a businessman from Beijing who paid more than $8-million for the operation in February.
As is often the case with change, there have been hints of nervousness in the region that Chinese ownership could bring unwelcome consequences — job losses for locals, slipping quality, loss of local control. One winery spokesman says there has been negative reaction recently from wine consumers "when they hear a local winery is not locally owned. "But Val Tait says she's only seen positive things from the new owner of her former winery, Bench 1775 — a businessman from Beijing who paid more than $8-million for the operation in February.
There are 240 grape wineries in British Columbia today, from just 17 in 1990 and 86 in 2003. The thirst for investment and ownership turnover is high in a business that is extremely capital intensive.
One of the Naramata, B.C.'s iconic wineries because of its sweeping vistas, Bench 1775 is located on a 31-acre property with a tasting room overlooking Lake Okanagan. Already, it exports 8,000 cases a year to China, its biggest export market — as much as it sells domestically. The owner (who prefers to stay anonymous) offers expertise in the retail end of the Chinese market, where he has been exporting B.C. wines for a decade, she says. And as is often the case with Chinese purchases, Ms. Tait, a viticulture expert with an extensive history of producing red table wines, was asked to continue as general manager and told to keep up the high-quality product. With Canadian brands competing with many better-known wines in China, "we have to produce a premium product," she says. "It's a very discerning market. Brand and quality are very important." Chinese investors "are bringing in capital that we need to be able to operate in the global stage," Ms. Tait says. "It ups everybody's game.
Zhenzhen Fu, chats with General Manager Mike Lang at Lang Vineyards wine cellar Naramata , British Columbia.
She credits the new owner with having a remarkably long-term vision, and unusual patience. While spending most of his time in China, he participates in all aspects of the business when he is at the winery — from bottling wines to picking grapes.  "Now I am thinking: 'Where will this winery be in 100 years?' whereas before it was, 'Where will be in 10 years?' It changes everything in your approach when you start thinking 100 years down the road," Ms. Tait says. "In China there are more millionaires than the Canadian population," says industry pioneer, Guenther Lang, whose Lang Vineyards was the province's first to sell its products directly to the public, setting off a trend that has led to a booming wine-tourism market. "Business people want to get investments outside of China, and one of the preferred locations is B.C.; Canada is investment friendly and the last big banking crisis confirmed that — our big banks … performed best in the world."
After Mr. Lang sold his winery to a Canadian investor in 2005, the buyer ran into trouble during the recession. Enter Yong Wang, a Chinese businessman, who bought it out of receivership from the Bank of Montreal in 2009. Mr. Wang bought new equipment, invited Mr. Lang to return as a consultant and installed his nephew, Mike Lang, as general manager. Mr. Wang kept the winery's 10 employees, and is consulted on major decisions, but for the most part, Mike Lang says, the owner allows the staff to do what it takes to be successful. "We started from scratch and worked our way back," he says. "Our wine sales have been up again. We are getting the market we used to have. We are bringing some new varietals to the table, so that is drawing in a lot of customers." He exports about 500 cases a year to China, where Mr. Wang's daughter opened a store that sells the B.C.-produced wine. The plan is for her eventually to move to B.C.
As for Zhenzhen Fu, she is continuing to look for a winery with a great view, land to expand and to build guest rooms, and a solid balance sheet. She is also taking sommelier courses to refine her knowledge of wine. She's fallen in love with winemaking far more than she ever had with computer engineering. At the very least, she says, when she buys her winery, "maybe I can fix my own computer."
Source: Claudia Cattaneo of Financial Post