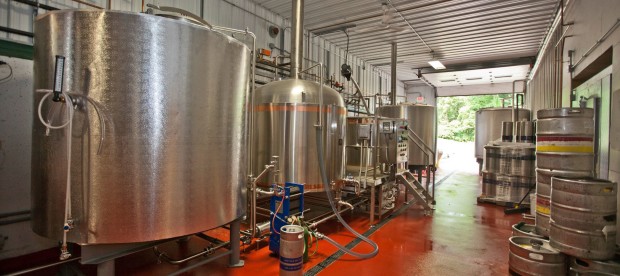 A New Brewery on the Horizon for Kelowna?
Kelowna   posted March 3, 2015 by   Cassandra Jeffery
Beer lovers, get your tasting palates ready because Kelowna could be the home of a new brewery and tasting room in the north end of the city.
On Tuesday evening, Kelowna City Council will mull over a development permit application for a new brewery to be built from the ground up at 889 Vaughan Avenue. Only a short walking distance away from the Ethel and Clement intersection, Starkhund Brewery is expected to help liven up the region.
Photo credit: Google Maps.
Totalling 58,000 square feet, the bulk of the building will consist of the brewery, which means the building will need high ceilings to contain the silos, storage tanks, and warehousing and processing equipment. In terms of the overall look, the building is expected to feature Kelowna's industrial heritage, all the while illustrating architectural structures of the future. A combination of tumbled brick and timber elements, contrasted with exposed metal and organic colours will generate this desired look.
Photo credit: City Council agenda.
Although the vast majority of the building will consist of the brewery itself, beer lovers can expect a patio and functional tasting room.
Photo credit: City Council agenda.
In a conversation with City employee Ryan Smith from the Urban Planning Department, he said the brewery will contribute to the development of the region.
"It's exciting, lots of changes are happening," said Smith.
Buildings such as the RCMP complex and the new brewery will bring life and revitalization to Clement. In addition, industry in the north end of the city is booming, making for a great location for a new brewery.
"The building will add both character and depth to this Kelowna north area with its growing number of breweries, wineries, and distilleries, as well as create a building that will in some ways function as a northeastern landmark entrance to the City's downtown," read the proposal to be brought forward to Council Tuesday night.
The Urban Planning Department is in full support of the proposed brewery and are excited to move forward with this project, should Council agree.